Computers in Scientific Discovery 5
Fifth in a cross-disciplinary workshop series that brings together researchers in
Mathematical, Physical
and
Life Sciences
to explore the increasingly diverse ways that computers are used as part of the scientific discovery process.
Themes this year include applications and algorithms in
With these aims in mind, the workshop will combine formal lectures, short talks, and ample time for informal discussions.
Download the conference poster by clicking on the thumbnail.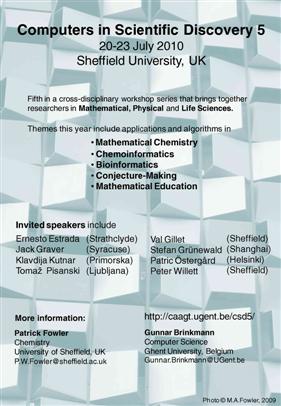 Next CSD
CSD 6 will be held in Portorož, Slovenia at 21-25 August 2012. More information can be found
here
.
After the conference
The slides of most talks have been added on the
abstracts-page
.
News
See here for local public transport hints.
Registration opens at 15.00 on July 19th in the foyer of the Chemistry Department, and is followed by a Reception/Welcome Party in Room G12 of the same building (17.30-19.00).
The latest schedule of the talks can be found here. A booklet of all abstracts is available as well.
The menu of the conference dinner is available.
Information about the conference dinner and excursion is available.
Dates
Deadline submission of abstracts: 24 May 2010
CSD 5: 20-23 July 2010
Keynote Speakers
Location
Department of Chemistry
Dainton Building
University of Sheffield
Sheffield, S3 7HF, UK
Sessions will be held in Lecture Theatre 1, Floor C, Chemistry Department.
For information about the Department and University, see
here
.
Maps of the campus, city and region, and information on how to get to Sheffield can be found
here
.
Organisers
Prof. Patrick W. Fowler
Department of Chemistry
University of Sheffield, UK
E-mail:
P.W.Fowler@sheffield.ac.uk
Prof. Gunnar Brinkmann
Department of Applied Mathematics and Computer Science
Ghent University, Belgium
E-mail:
Gunnar.Brinkmann@UGent.be
Organising Committee:
Prof. Barry T. Pickup, Sheffield
Dr. Anthony J. H. M. Meijer, Sheffield
Mrs. Denise Richards, Sheffield
Mr. Jan Goedgebeur, Ghent
Registration
To register, please make a copy of the
registration form
and either email the completed form to
Denise Richards
, or post the hard copy to:
Mrs Denise Richards (CSD5 Conference)
Department of Chemistry
University of Sheffield
Sheffield S3 7HF, UK
The payment form can be found
here
.
In keeping with the workshop character of the meeting, the number of participants will be restricted to about 50 and the total number of talks will be limited.
If you wish to contribute a talk, please submit the title and abstract to
Patrick Fowler
.
The abstract should have a maximum of 200 words and should be in either word or latex format.
Early submission is strongly advised, so that notices of acceptance of suitable talks can be sent out in good time, but the
latest
date for submission of a title and an abstract for consideration is
24 May 2010
.
Financial Aspects
Some (limited) support will be available for travel and/or accommodation costs of student participants. In any case, there is no registration fee for research students (though
all
participants should still fill in a
registration form
).
The registration fee is
68 pounds sterling
up to 12 April 2010 or
92 pounds
later.
Receipts for all payments will be issued at the meeting. The registration fee includes the
Conference Dinner
.
The payment form can be found
here
.
Participants
Matteo Baldoni (Dresden)
David Bean (Sheffield)
Ryan Bissell-Siders (Caen}
Paul Blackwell (Sheffield
Gunnar Brinkmann (Ghent)
Arnout Ceulemans (Leuven)
Simon Cox (Aberystwyth)
Simon Crevals (Ghent)
Michel Deza (Paris)
Matthias Ernzerhof (Montréal)
Ernesto Estrada (Strathclyde)
Patrick Fowler (Sheffield)
Val Gillet (Sheffield)
Jan Goedgebeur (Ghent)
Jack Graver (Syracuse)
Christina Graves (Tyler)
Stefan Grünewald (Shanghai)
Elizabeth Hartung (Syracuse)
Guang Hu (Leuven)
Aleksandar Ilić (Niš)
Edward Kirby (Pitlochry)
Klavdija Kutnar (Primorska)
Istvan Laszlo (Budapest)
Josef Lauri (Malta)
Erwin Lijnen (Leuven)
Roger Mallion (Kent)
Aleksander Malnič (Ljubljana)
Anthony Meijer (Sheffield)
Hadrien Mélot (Mons)
Marko Milošević (Niš)
Ali Moghani (Tehran)
Sonja Nikolić (Zagreb)
Patric Östergård (Aalto)
Barry Pickup (Sheffield)
Tomaž Pisanski (Ljubljana)
Leanne Rylands (Melbourne)
Tibor Tarnai (Budapest)
Nicolas Van Cleemput (Ghent)
Peter Willett (Sheffield)
Sponsors
The Computers in Scientific Discovery 5 conference is supported by Ghent University and Sheffield University.
Go to top